The fun starts this month.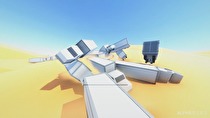 The publisher of Mr. Shifty is going hard on Switch in 2018.
tinyBuild released a "Hello Switch" video earlier today which featured six new game announcements. The games announced are:
The Final Station, a 2D exploration title in which you explore a train as it hurtles toward the apocalypse. The first out the door, The Final Station will release in February and will include a story expansion called The Final Traitor.
Cluster Truck, a highly popular first-person action title where the only way to avoid being crushed by trucks is jumping across them. The cluster takes off in March.
Punch Club, a murder mystery set in an underground mixed martial arts scene, will be out on Switch in May. The game is already available for Wii U and 3DS.
Party Hard, due out in the summer, is a strategy title in the vein of the Hitman games where the goal is to shut down a neighborhood party by any means necessary.
Streets of Rogue combines city exploration, procedural generation and extreme violence. The game is slated for a 2018 release.
Stealth horror title Hello Neighbor was the last game revealed, and it will be available at retail as well as the eShop. The popular streaming title is due in 2018, with future content updates included free of charge.