Free content patch brings a new campaign and leaderboards among other things.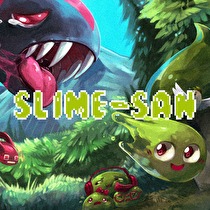 A free content patch named "Blackbird's Kraken" is coming to Slime-san on February 22nd. The patch contains many quality of life updates plus other additions of note:
NEW FEATURES:
Leaderboards: Compete online for the best level & speedrun times
Button Mapping: Remap all of your controls to your liking
Krazy Karting Minigame: Item based, karting madness for 2 players
Gloomy Minigame: A scary, intense FPS arena survival game
NEW CONTENT - BLACKBIRD'S CONTENT CAMPAIGN:
A independent campaign from Slime-san
25 normal and 25 NG+ levels within a giant kraken
A brand new boss fight
10 new target mode challenges that will test your skills
A customizable house that you can style and furnish to your heart's content
100 Bananas to collect and spend on furniture and house themes
A independent speedrunning mode to compete with in leaderboards
An entire tropical Island you can explore and discover
The team over at Fabraz will be doing an AMA on Reddit the same day to answer any questions you may have as well.