With that Switch cart premium.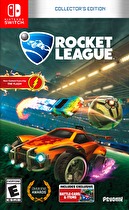 Rocket League Collector's Edition for Switch comes to North American stores Jan. 16 for $39.99.
The cart includes seven DLC packs, car parts based on The Flash, an art print and the base game.
In this announcement, Psionix cited Switch manufacturing costs as the reason for the $10 increase over other physical versions of Rocket League.