And a new trailer to go with it.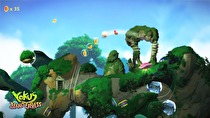 Yooka-Laylee might be releasing this week, but Team17 isn't done yet.
New details and a trailer have been released for Yoku's Island Express, the pinball / platforming hybrid coming to Switch in 2018. The title character Yoku will meet a colorful cast of characters including Tito the mountaineer, Chip the foreman and Tungaska as he looks to save Mokumana Island from a restless god.
The trailer can be seen below: