All of the indie hits in one convenient package.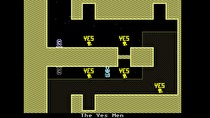 Nicalis's strong support of the Switch will continue soon with an indie classic.
VVVVVV, which released on multiple platforms including the 3DS in late 2011/2012, will release on the Switch on November 17 for $9.99/€9.99/equivalent. Currently, only a digital release is planned.
The single-letter platformer utilizes a gravity flipping mechanic to navigate a spaceship in search of its missing crew and other trinkets. The Switch version is slated to run at a locked 60 frames per second and will add new graphical filters.