And Konami can't sue because of parody!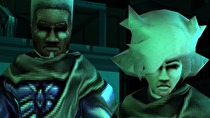 The newest game from one of the generation's most prominent independent developers will see first light on Switch.
Humble Hearts, the studio behind Dust: An Elysian Tale for Xbox 360 and PlayStation 4 among other platforms, have announced Never Stop Sneakin', and it will at least make its console debut on Switch. The game stars a secret agent who is out to stop a villain named Amadeus Guildenstern who has used time travel to kidnap all of the presidents of the United States.
The light-hearted take on tactical espionage action is tabbed for a holiday release.