"One's made of skin, one's made of wood, so... WHO'S THE DUMMY?"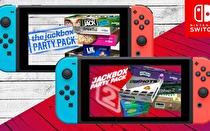 Following the success of Jackbox Party Pack 3 on Switch, the first two packs of irreverent party games will join it next week.
Jackbox Games have announced the release date for Jackbox Party Pack and its sequel will be next Thursday, August 17. The fourth pack will also launch this fall.
The original Jackbox Party Pack features the most recent edition of the high culture/pop culture collision trivia game You Don't Know Jack as well as Word Spud and Fibbage, while the sequel brings Fibbage 2 and Bidiots among its five pack. Both games feature five player support with the ability for up to 100 players to play in a stream setting.