The latest major sports title to hit the platform.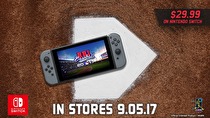 The Switch's sporty September will include a late call up from baseball as well.
R.B.I. Baseball 2017 has been announced for a September 5 release on the Switch at a $29.99 MSRP. Officially published by Major League Baseball, the simulation title is only related to the NES and Super NES baseball series by their name.
The announcement tweet says "in stores", and physical copies of the PlayStation 4 and Xbox One versions are available through a distribution partnership with Nighthawk Interactive.