A new digital shopping destination for hardware, special edition software and more is opening very soon.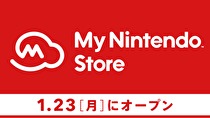 Nintendo is opening the My Nintendo Store, an online shop, on January 23 in Japan. The store will be open to My Nintendo users in Japan and give the opportunity to buy exclusive goods. Starting with the Switch, account holders are able to order Nintendo's newest system from the site and can customize the colors of the Joy Con and the Joy Con straps. The system remains the same retail price of ¥29,980 and will also net members 300 gold points.
The Legend of Zelda: Breath of the Wild is also going to have a special limited My Nintendo Store version of the Deluxe Collector's Edition of the game. The regular Deluxe Collector's Edition comes with a physical version of the game, a Link Breath of the Wild Amiibo (on a horse), map, sound track and a special design sheet. The limited My Nintendo Store version includes all of the above as well as a Master Sword statue and a set of 20 postcards. The statue is about 10 inches tall (25 cm). This set will retail for ¥13,870 (about $120 USD).
Special limited versions of the Switch carrying case will also be available in Neon Blue and Neon Red to match the colors of the Joy Con. On top of this, customers who also purchase both Switch Hardware and software titles will receive Special B2 size posters featuring artwork of the games they purchased. Also, simply logging in to the My Nintendo Store on or after January 23 will also net members 100 platinum points.
Currently, the My Nintendo Store seems to be limited to Japan.