Here's to 26 years of Super Famicom!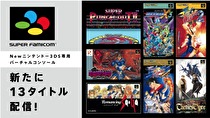 Seven Super Famicom titles hit the (New) Nintendo 3DS Virtual Console service today in Japan as part of a two week celebration marking the classic 16-bit console's 26th anniversary. Super Punch Out!!, Super Castlevania IV, Mega Man X3, Final Fight 2, Final Fight 3, Romancing SaGa and Tactics Ogre: Let Us Cling Together all saw releases. This is just the first batch of Super Famicom games with another batch of six undisclosed titles scheduled to hit the service next Monday, November 28.
On top of the newly released games, My Nintendo members that purchase any Super Famicom title on the 3DS eShop will receive a free My Nintendo Super Famicom theme for 3DS. The theme is only available between November 21 to December 5.
This recent batch of Super Famicom Virtual Console titles marks the first release on the service in Japan since F-Zero X was released on the Wii U earlier this month.