Version exclusive ones, to boot.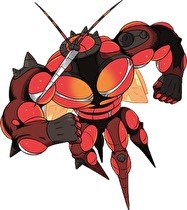 A brief trailer has been released showing two more of Pokémon Sun and Moon's Ultra Beasts.
The beasts are both known as UB-02, but are version exclusive: Sun has UB-02 Absorption, while Moon has UB-02 Beauty. The trailer shows the Beasts facing off against a Tapu Koku in both versions.
CoroCoro Magazine first showed the Beasts in Japan this week, and also confirmed that Rockruff's evolution will have version-dependent forms. Known as Rugarugan in Japanese, the Pokemon evolves to "Midday Form" in Sun with a new Rock move with enhanced priority. The Moon form is known as "Midnight Form" and is shown learning Counter.