Get to stepping Torkoal, there's a new sheriff in town.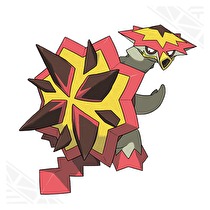 Gamescom has brought a new Pokémon to Sun and Moon.
Turtonator was revealed during a livestream with game producer Shigeki Morimoto. It is a bipedal turtle-like creature with Fire and Dragon types and the unique move Shell Trap, which causes major damage if Turtonator is struck by a physical attack.
A later trailer showed Turtonator also hitting Water/Rock types for super-effective damage.