If you missed them last year, you can get a physical copy soon.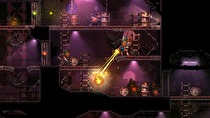 Two of last December's indie hits will soon get disc releases on Wii U.
Nintendo of Europe and Nintendo of Australia announced this morning that the "Selects" branding would be extended to eShop titles, with SteamWorld Heist and FAST Racing NEO being the first games to benefit. Both games will release on disc on 30 September in Europe and 1 October in Australia, with SteamWorld Heist launching on the eShop the same day. Both discs will also include downloadable expansions The Outsider and the NEO Future Pack.
Rising Star Games will serve as the distributor for the games in North America. They previously released BIT.TRIP compilations on Wii and 3DS.