A much-needed Saturday release for one of Japan's biggest franchises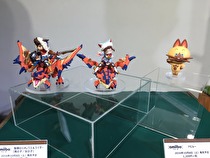 The long-awaited traditional RPG take on Monster Hunter will be hitting Japan this October.
Monster Hunter Stories will release in Japan on October 8, and will also have amiibo support that unlocks new monsters in the game. The designs in the first wave, launching day-and-date with the game, are male and female hunters on a One-Eyed Rathalos, as well as a Nabiru (Felyne) amiibo. The hunter/Rathalos amiibo will be 1800 yen while the Felyne will be 1200 yen, and a second wave is expected this winter.
As of this time, no release date has been announced outside Japan, as Monster Hunter Generations is releasing on July 15.