As well as yet another update to the Wii U version.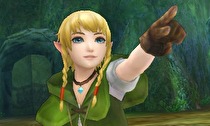 The first round of DLC for Hyrule Warriors Legends has a release date, and the rest of the content appears to have its windows.
The Master Wind Waker pack, which includes My Fairy content and adventure maps, will release next Thursday (May 19). The pack is strictly for Legends, though both Legends and the Wii U Hyrule Warriors will also receive a free update that day to add Medli to the playable character roster.
A screengrab from the Japanese trailer seems to indicate that the remaining DLC packs will be bimonthly: the Link's Awakening DLC pack with playable Marin in July, the DS pack (Phantom Hourglass and Spirit Tracks) in September and the Link Between Worlds pack in November. These other three packs will also be available on the Wii U version.