The Professor Layton series wouldn't exist if it wasn't for him.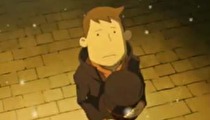 The man whose puzzles were cited as the inspiration for the Professor Layton series has died.
Akira Tago, the "Puzzle Master" in the credits of the Professor Layton games, passed away on March 6 due to pneumonia. Tago was the author of the "Atama no Taisou" series of quiz books that sold multiple millions of copies in Japan, with the puzzles adapted into Level 5's adventure series.
Tago also served as a professor at Chiba University and president of Tokyo Future University.