Since nobody else will do it, apparently.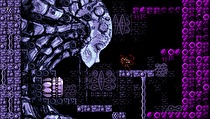 An award winning tribute to Metroid is landing on the Wii U before the end of the year.
Axiom Verge, the famous tribute to 8 bit Metroid titles that released on PlayStation 4 and PC last year, will come to the Wii U and also the Xbox One later this year.
There was some fear that the game wouldn't come to Wii U because of issues with the GameMaker engine originally used for the game as it did not natively support Wii U, but those issues appear to have been resolved.