Also coming: Two beloved RPG characters get Mii costumes, as well as the greatest threat to America.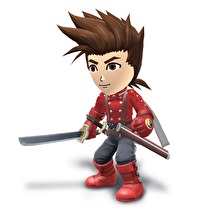 As promised last night, there are more details of the content in the Smash update.
The Smash Bros JP Twitter has updated with news that the Youtube uploads will also upload to Miiverse. In addition, three new Mii costumes were revealed: Honey bears (pictured below) for the Gunner, Flying Man (Earthbound series) for the Brawler and Lloyd Irving from Tales of Symphonia as the Swordsman.
[追加コスチューム:くまスーツ(射撃)]『スマブラ』特製、くまの全身着ぐるみセットが登場。 はちみつのツボに手をつっこんだら抜けなくなっちゃった! ツボ部分がそのまま射撃タイプの武器になったクマー。(7月31日配信) pic.twitter.com/Ej9U91ZSFP

— 大乱闘スマッシュブラザーズ (@SmashBrosJP) July 30, 2015
The update will go live tomorrow morning in Japan, meaning if it is dropped worldwide it would be available tonight in North America.