Details on Amiibo skins and how the Yarn Yoshi Amiibo came to be.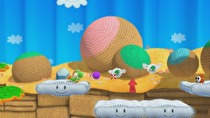 Yoshi's Woolly World is now slated for release on October 16 in North America.
The game's corresponding Yarn Yoshi Amiibo actually got its origin when a staff member created one on a whim. The Amiibo was so beloved by game staff that they then began to make plans to actually produce the Yarn Yoshi Amiibo for release.
Nintendo also has re-confirmed that various Amiibo will be able to give Yoshi various looks, for example, Mario or Samus.