Ultimate Angler and Battle Ground Z will bring the StreetPass noise.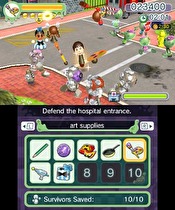 A pair of new StreetPass games are coming to 3DS on April 16 alongside the new StreetPass Mii Plaza Premium.
Ultimate Angler has your Mii visting new StreetPass Islands and collecting bait to get new fish. In total, you can catch over 150 fish, including several legendary monsters. The other game is called Battle Ground Z, where you can StreetPass characters to get items from everyone's hobbies. You have to rescue people from Hobbyville with 26 different weapons.
In addition to these two games, which will be available for $4.99 each or $7.99 for both, you can also enroll in StreetPass Mii Plaza Premium, where you do things such as collect Mii's birthdays and store special Miis in VIP mode.