Like it or not, the Big N is still working on improving your quality of life.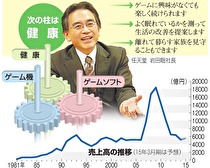 Despite the fact it's been quite a while since we've heard from Nintendo about its health initiative, company president Satoru Iwata has confirmed that its quality of life platform is still very much an important part of Nintendo's future.
In an interview with Asahi News, Iwata emphasized the fact that this new third pillar will be separate from what it's doing on the video game front. "It's not necessary to be particular about game hardware," he explained.
However, that doesn't mean the company won't make use of its entertainment knowledge to ensure the success of its sleep-sensing product when it eventually is made available to consumers. "Leveraging our video game know-how, we'll make it so even those who have trouble following through can stick with this program and have fun," Iwata added.
Do you think Nintendo's quality of life initiative is a smart move for the company going forward? Are you afraid at how it might affect its gaming division?