More details on the next entry in the Zelda franchise will be revealed at E3 2015.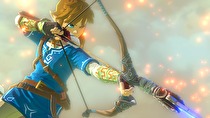 The Legend of Zelda Producer Eiji Aonuma shared a few new details on the series' first original entry for Wii U, noting that the game's visuals are even more impressive than what was teased earlier this year.
"Now it looks more amazing than what was shown at E3," he told Famitsu in a recent interview.
Aonuma then went on to discuss Zelda Wii U's open world and the large creature that was shown chasing Link during the game's E3 reveal trailer. The development team has specifically been looking into creating moments like this that ask the player: "If an enemy like this appears, how would you beat it?"
Closing out the discussion, the Zelda producer said that Nintendo fans can expect to hear more about the game at next year's E3.