16 new courses are also coming our way.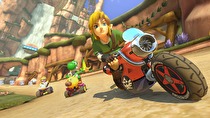 Two new packs of DLC are coming to Mario Kart 8, as announced by Nintendo of Europe's official online store. Both packs will include three new characters, four new karts, and eight new courses.
So far, Nintendo has only revealed a few details about each pack, but we do know that the first one, which will be available this November, will include Tanooki Mario, Cat Peach, and Link from the Legend of Zelda series. The second pack, due out May 2015, will include Dry Bowser, as well as the Villager and Isabelle from Animal Crossing: New Leaf. If you buy both packs, you will also get an assortment of alternate colors for Yoshi and Shy Guy.
Nintendo didn't go into specifics of the track listing, but we do know that Wario's Gold Mine will be returning from Mario Kart Wii, and there will be new courses based on F-Zero and Animal Crossing.
UPDATE: You can pre-purchase both DLC packs starting tomorrow for $7.99 each, or $11.99 for the bundle. Once purchased, you will be able to play as the multi-colored Yoshi and Shy Guys immediately.