Out of nowhere, the Wii U launch title from Activision gets an update!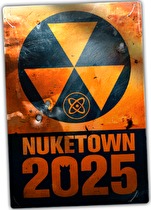 The Nuketown 2025 map, which was a free piece of DLC on other consoles, has now been added to Call of Duty: Black Ops II on Wii U. This is what the website NintendoLife discovered after booting the game up for the first time in a long while.
To get the Nuketown 2025 map, you will have to download a free update and install it. After that, you will be good to go and able to play at this location. The remake of the fan-favourite game boosts a 1960s retro-futuristic style, instead of traditional modeling in the original.
There is no reason given why Activision has suddenly added this DLC, nor why it was never announced. We also don't know what this means for any other DLC released by Activision for the title.