Square Enix's 3DS JRPG is a bona fide sales hit.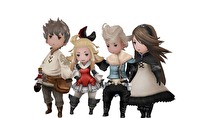 Bravely Default, the 3DS role-playing game published by Square Enix, has sold a million units worldwide since first hitting Japanese store shelves back in October 2012, according to a report from Dengeki Online.
The sales figures take into account versions of the game across all territories and formats, including copies downloaded via the eShop. Japanese sales account for roughly 40% of the game's total, meaning 600,000 copies have been sold in overseas markets so far.
Over a year after its Japanese launch, Bravely Default released in December 2013 in Europe and February 2014 in North America. It reportedly sold 200,000 units in its first few weeks of American availability.
A sequel, titled Bravely Second, has been announced by Square Enix. No release date is known yet, but you can find the game's official site here.