The designer of indie darlings Isaac and Super Meat Boy keeps hope alive.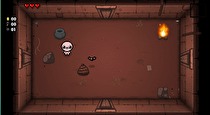 Binding of Isaac is still not ruled out for a 3DS release in some form, according to a Tumblr post from the game's designer, Edmund McMillen.
McMillen, also known for his work on Super Meat Boy and prominent role in Indie Game: The Movie, responded to a fan's question of whether a 3DS version of Isaac had "definitively fallen off the monkey train of possibility" with a simple "no." McMillen is currently working with Nicalis on a remake of the game titled Binding of Isaac: Rebirth, which features revamped 16-bit style graphics and greatly expanded content while retaining the Zelda-inspired, roguelike gameplay of the original.
McMillen made his desire for a 3DS version of the original Isaac clear in the past. However, back in 2012 reports surfaced that Nintendo had blocked the game from the platform due to "questionable religious content." Currently, an entry from the FAQ section of the Rebirth official site states, "We want to release on 3DS, and will if given the option. Isaac currently goes against Nintendo's publishing rules due to its religious aspects... but stuff might change, you never know."
For now, the remake is on track for a release sometime this year on Steam, PlayStation 4, and PlayStation Vita.