A mismatch of talent came together to help construct the new Wii U title.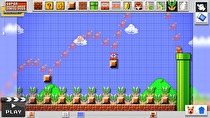 Mario Maker is being developed by a team consisting of many different members from other internal Nintendo groups, Takashi Tezuka revealed to us in an interview. Originally, the Mario course tools team came up with the concept, but when it was turned into a game, this new team was created to tackle the project.
The director of the game is Yosuke Oshino, a relatively young member of the team who is making his directorial debut. Oshino previously worked on New Super Mario Bros. Wii, Pikmin and Pikmin 2 as a programmer, and also played a programming support role with Mario Kart 7.
Mario Maker is scheduled to release on the Wii U in 2015. You can read our hands-on from E3 here. Also be sure to check out footage of the game below.