Defending whales and completing quizzes... all in a day's work for Phoenix Wright.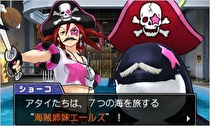 A brand new case, a sequence of quiz games, and some extra costumes have been unveiled as downloadable content for Phoenix Wright: Ace Attorney - Dual Destinies.
The new case, "Special Chapter: Turnabout Return," sees the titular Phoenix Wright defending a orca whale and its pirate-dressed trainer from a murder charge. This DLC is said to fill in the gaps between this title and the previous entry in the series, Apollo Justice: Ace Attorney. Release and price details for this pack are still to be announced.
Other pieces of DLC include the Deduction Quiz, a four-part series of brainteasing minigames taking place in the Wright Anything Agency. In Japan, the first part is available for free, whilst the following parts will be released on August 1, August 8 and August 15 respectively, each costing 150 yen to download.
Finally, players can also acquire alternative outfits for the game's three main protagonists, Phoenix, Apollo and their new associate Athena Cykes. These costumes are free of charge until August 15, after which they will be available for 150 yen each.
Ace Attorney - Dual Destinies was recently released in Japan on July 25, under the name of Gyakuten Saiban 5. The game will arrive in Western markets later this year as a 3DS eShop exclusive.