McDonalds can now be called "StreetPass Clown Establishment."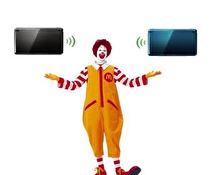 3DS Wifi Access points located around North America and Europe will soon be used as relay stations for StreetPass.
Announced during Nintendo's E3 Analyst Briefing, an update for the 3DS is coming that will bring new a framework to the system. The framework will enable StreetPasses by passing Wi-Fi access points connected to a special 3DS server. These stations will be found in places like Starbucks and McDonalds, totaling 28,000 in North America and 24,000 in Europe.
It will work by giving users passing by with their 3DS systems in sleepmode StreetPass data from people who had already passed the Wi-Fi access point previously, data which was saved to the aforementioned 3DS server. The update to the 3DS enabling this feature will be coming by this fall.