If you like Bingo, you are going to love Pikmin 3.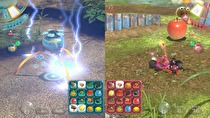 Pikmin will give gamers three different ways to enjoy the game: Story Mode, Mission Mode, and Bingo Battle. Story Mode is the main game, while Mission Mode features specific challenges that last somewhere between 7-10 minutes each. Bingo Battle is Pikmin 3's 2 player multiplayer mode.
In Bingo Battle, players each receive a bingo card with items and enemies in each square. In order to win, players must capture items or defeat the enemies, and line up the squares completed 4 in a row. A roulette wheel gives players random items to help them win.
Pikmin 3 releases July 13 in Japan, July 26 in Europe, and August 4 in North America.