The original 3DS gets yet another color in Japan, while two older ones bite the dust.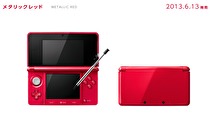 A new Nintendo 3DS color, called Metallic Red, is coming to Japan on June 13. The system comes with a 4 GB SDHC card and will retail for 15,000 yen. The new unit sports a more vibrant shade of red compared to the previously released Flare Red 3DS which was released in July 2011 and discontinued last fall.
Nintendo is also planning to cease production on the Cobalt Blue and Misty Pink color variations for the Nintendo 3DS. No specific date was given for the discontinuation.