Keyboard Cat and Nyan Cat are now relevant again.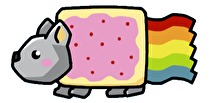 Warner Bros. and 5th Cell, the companies behind Scribblenauts, are being sued for their use of two popular internet cat memes in the Scribblenauts games.
Keyboard Cat and Nyan Cat are the two memes in the Scribblenauts games that are the basis for the copyright infringement suit. The creator of Keyboard Cat, Charles Schmidt registered the video that features his now deceased cat Fatso with US Copyright Office in 2010 and has trademarks pending at the US Patent & Trademark Office. Likewise, Nyan Cat creator Christopher Orlando Torres registered a copyright on the Nyan Cat animated GIF in 2011 and has a trademark application pending.
The Scribblenauts series used representations of both cats without permission, starting with Keyboard Cat in the original 2009 DS game Scribblenauts. The most recent Scribblenauts game, Unlimited, contains both memes and is available on the 3DS and Wii U.
King, Holmes, Paterno, and Berliner, LLP are representing the two cats in a combined lawsuit seeking statutory damages, willful infringement enhancements, and attorney fees. However, Keyboard Cat may not be fully eligible due to its late copyright registration. The plaintiffs seek a sales injunction of Scribblenauts games until the suit is resolved.
The case is Schmidt, et al. v. Warner Bros. Entertainment, Inc., et al., CV13-02824-JFW.