Early reports said May 2, but it's looking like the wave won't hit the States until May 30.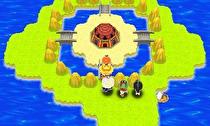 The Denpa Men 2: Beyond the Waves is coming to North America on May 30, according to developer Genius Sonority. We originally reported that the sequel was launching on May 2, according to IGN. Genius Sonority will officially announce the game's North American release on May 2.
While it is very likely that a demo will come out before the release, we still do not know for sure when the demo will launch. Like the original, the demo allows you to carry over your save to the main game.
Denpa Men 2 adds an overworld map, an Animal Crossing-like town, and a cool StreetPass mechanic to the dungeon-crawling antics first shown in the last fall's 3DS eShop release. It came out in Japan last September, and still hasn't been confirmed for a European release.