Share all the moments from games like Animal Crossing and Tomodachi Collection with your online friends!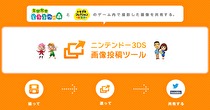 A special web based tool to upload photos to Twitter and Tumblr for the Nintendo 3DS was released today in Japan by Nintendo.
The tool currently only allows gamers to share photos from Animal Crossing: New Leaf and Tomodachi Collection: Shin Seikatsu (New Life) on the services. After uploading, hashtags will be automatically added to the post so that other users can see photos that others have uploaded.
To access the tool, gamers need to go to https://i.nintendo.net on their Nintendo 3DS browser. After signing into one or both of the services, you are able to choose a photo to upload and add characters to the posting. Even if a 3D photo is uploaded, the image will appear in 2D on the services regardless of whether or not your are viewing it on the 3DS. This image posting tool is currently limited to Japanese 3DS units and the two games listed above.