The social network will be more deeply integrated with games.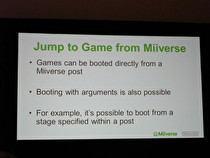 Nintendo is planning updates to Miiverse functionality, including the ability to more deeply integrate the social network with Wii U games.
The Miiverse API will be updated in a future version of the Wii U Software Development Kit to include features to improve interactions within games, producer Kiyoshi Mizuki revealed in his GDC talk. In future updates, more Miiverse functions will be available from within games. Players will be able to send and receive comments, follow users from within a game as well as viewing follower lists, and see lists of people who Yeah'd their posts.
Miiverse posts will gain the ability to launch games at a specific point from a link in Miiverse. For instance, posts from within levels in New Super Mario Bros. U are tagged with the in-game locations. In the future, players could launch a level directly from a corresponding Miiverse comment. Additionally, the Miiverse can be coupled with an online datastore, which could perform even more advanced functions.
User communities are already available, but no game makes use of the feature yet. User communities on Miiverse work similarly to those in Mario Kart 7. Users who have a community code can join a limited-access community only available to those who own a game and enter the code. Nintendo hopes that restricting interaction to a known group of people will allow people to be more comfortable sharing online. The feature can be used to organize and hold tournaments. Wii Fit U will be the first title to incorporate the feature. Within the Wii Fit U user communities, players will be able to share training records and activity logs with the hope that others they know will encourage them to stick with and enjoy fitness activities.
Mizuki sees the potential to link stage editors to Miiverse, allowing users to create and direct an entire game from Miiverse. He envisions a game where interactions aren't fixed, but people across the world bring the game to life. However, he is not working on such a game since his duties involve providing developer support for the Nintendo Network.
Nintendo is also listening to developer requests on how they might extend the Miiverse API to include more benefits.