The Mutant Mudds' developer has something new up their sleeves.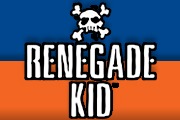 A new FPS from Renegade Kid is heading to the 3DS eShop later this year, according to Renegade Kid's Jools Watsham in a Nintendo Force interview.
While Nintendo Force was inquiring about Mutant Mudds 2, the sequel to 2012's Mutant Mudds, Watsham revealed that a new FPS was in the works and is tentatively scheduled to release this upcoming holiday season. No other details on the title were revealed, but the game might make an appearance as early as PAX East 2013.