Another reason to pick up the Wii U rendition of Mutant Mudds.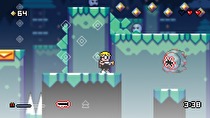 Mutant Mudds Deluxe, developed by Renegade Kid, will feature 20 brand new levels, another power-up, and some new enemies, according to the first issue of Nintendo Force magazine.
The 20 new "parallel universe" levels take place in an area filled with ghostified versions of old enemies as well as new ghost creatures. These enemies can not be shot down with Max's normal water cannon, but instead can only be destroyed when Max possesses the "Ghost Shot", a temporary power-up.
These new stages are accessible on the hub world through a new door leading to the parallel universe. The new levels will become unlocked as you progress through the original 20 levels of the game.
Renegade Kid is also considering the inclusion of in-game Miiverse comment to help players who are struggling during the game. For those that have not played a version of Mudds before, the game is very challenging, and some newcomers may need this extra help. Whether this feature makes it into the game or not is yet to be determined.