Players can also tilt the GamePad to scroll through pages, and the console will remember the name of paused games to help with search queries.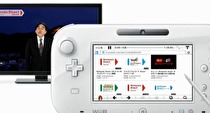 The built-in webkit-based internet browser for Nintendo's upcoming Wii U system will have a host of new features, including HTML5 support, Nintendo revealed last Thursday during a Japanese Nintendo Direct that aired simultaneously with the North American Wii U Preview Event. HTML5 is an up and coming web standard that is slowly being adopted by the latest browsers and websites. For example, Youtube (which Nintendo made sure to feature support for in their video demonstration) has an experimental HTML5 version for users with browsers that support it and the necessary video codecs.
However, this HTML5 support is contrasted by the Wii U browser's lack of support for Flash, the latest versions of which are also not supported in the Wii, DS, DSi, or 3DS browsers.
Nintendo also revealed that when players pause their Wii U games and access their internet browser, they will have access to images of the tv and GamePad displays from that paused game. Player-created game screenshots are already known to be used in Nintendo's MiiVerse functonality. However, many details regarding using and saving the images are still unknown.
When users pause a game and access the internet browser, the software will remember the paused game's name and prepopulate search queries with it to help users look for relevant information.
Nintendo also showed video footage of other features of the browser, like tabbed browsing that lets users keep track of several web pages at the same time. The video shows another multitasking scenario where a Youtube video is opened to play on the TV screen, but the GamePad continues to browse the internet as usual even while the video continues to play. One final example is that Wii U owners can simply just browse the internet on their GamePad while the television displays regular programming.
Gamers can even simply tilt the GamePad forward or backward to automatically scroll up and down through long web pages.
Nintendo called the Wii U Browser the quickest browser in Nintendo history. Stay with Nintendo World Report as the Wii U's launch approaches in multiple territories and those claims are put to the test.