Capcom releasing popular title on Wii U outside of Japan too!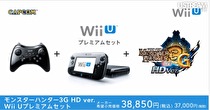 An HD version of Monster Hunter 3G HD, known as Monster Hunter 3 Ultimate in the West, is coming to the Wii U on launch day, December 8, in Japan. Players will be able to purchase the game stand alone or as a special Wii U bundle that comes with the Wii U console, a Wii U Pro controller and the game. The bundle will retail for 38,850 yen with taxes.
Players will be able to transfer save data from the Nintendo 3DS version of the game and use it in the Wii U version. Players will also be able to join others online in their quest to hunt other monsters. Not only that, but players will be able to play together cross platform locally. Monster Hunter 3G HD will release on the Wii U in North America and Europe next March. The Nintendo 3DS version will also see a release in the West at that time.