Developer Nnooo says its absence from the recent handheld release schedule is "just Nintendo being cautious."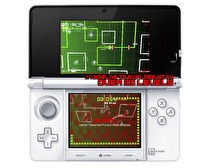 Nnooo is still aiming for a 2012 release of its upcoming 3DS eShop title escapeVektor, despite its absence from the handheld release schedule for the remainder of the year that Nintendo announced earlier this week.
When asked for comment, Nnooo's Bruce Thomson said that game's development was running a little behind another of their games, the DSiWare title Spirit Hunters, Inc., which was on Nintendo's list as a Q4 release, but that they are still aiming for a year-end release for escapeVektor.
He went on to say that it not being on the release list was "just Nintendo being cautious."