The Icarus Kid is the third Nintendo character to get the Figma treatment.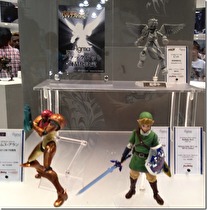 At the 2012 Tokyo Wonder Festival figurine trade show held last weekend, toy manufacturer Max Factory and their distributor Good Smile Company revealed that Pit from Kid Icarus Uprising will be getting a Figma in the near future.
For those new to the world of Figma, it is a series of fully poseable action figures famous for their extensive articulation and accuracy to detail despite their relatively small size.
Pit will be the third Nintendo character to get a figure in this series, with Samus Aran from Metroid Other M having been released a few weeks ago and Link from Skyward Sword scheduled for a release at the end of October this year. According to Masahiro Sakurai's Twitter, there will also be a Dark Pit variant released at the same time.
Perhaps Pit's inclusion in the Figma line is indication of the intention to eventually release a full Smash Bros. roster of figures? These figurines are known to sell out on preorders long before their actual release date, so interested fans are advised to get in early.