The former retail game from Ignition and Renegade Kid is going the way of Order Up.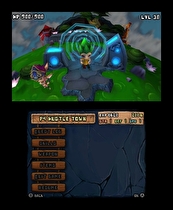 Planet Crashers 3D, from Ignition and Renegade Kid, is eschewing its retail aspirations and heading directly to the 3DS eShop in North America on July 26 for $10.
Originally set for a March 2012 retail release, Planet Crashers 3D, much like Ignition's Order Up!, was delayed and shifted to the eShop. While Order Up! actually did come out on cartridge in Europe, Planet Crashers 3D has yet to be released in any region.
From Mutant Mudds developer Renegade Kid, the game is a light RPG with turn-based battles, a variety of dungeons, and fully customizable characters. There is also apparently a two-player mode according to the game's page on Nintendo's website. Read our preview to learn more.
There is currently no word on a release in another region.