One disc isn't enough to contain the tunes in this epic 3DS game.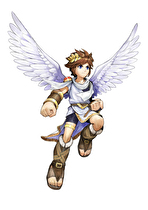 A three CD soundtrack containing music from Kid Icarus Uprising is being released in Japan for ¥3,570 (approximately $45) on August 21, 2012. It's uncertain what the relationship is between this soundtrack and the 25 track CD released via Club Nintendo in Japan, although one can speculate that this is an expanded version of that original CD.
The official Japanese Kid Icarus Uprising website has nine sample tracks from the game's soundtrack.