Nintendo shows us the unique features of the Wii U web browser.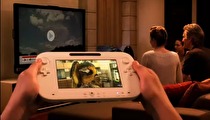 Details about the Wii U Internet browser were revealed today during the latest Nintendo Direct event.
Using the Wii U GamePad, players can input text, browse the web, and share what they are browsing with others who are watching the television. An example of this sharing was shown, with a video being flicked from the GamePad to the television screen for everyone in the room to view.
While the browsing is usually shown simultaneously on both screens, Nintendo is including the option to pull a digital curtain over what is on the television screen, which hides the content temporarily on the big screen. The concept is based upon the idea of making web browsing entertaining.