Mario Tennis Open and Fire Emblem are added to the gallery.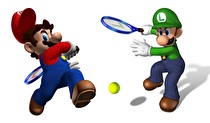 Nintendo 3DS owners across USA and PAL regions should be getting a SpotPass notice any time now to confirm the addition of a new panel in StreetPass Mii Plaza's Puzzle Swap.
The notice comes with a single free piece to set them on their way towards completing the brand new Mario Tennis Open panel.
Japan, on the other hand, gets a Fire Emblem puzzle in addition to the Mario Tennis one.