The 2D platformer finally earns Ubisoft some money.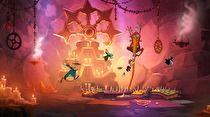 Rayman Origins has finally become a profitable game for Ubisoft, the company revealed to investors during a conference call earlier this week.
Rayman Origins released in November 2011 and was met with small sales numbers. NPD reports the game only sold 50,000 copies in its first month. However, Ubisoft claims the game "has the capacity to become a long-term seller for the company." There was no official sales data revealed.
Rayman Origins releases on the Nintendo 3DS on March 20. You can read our review of the Wii version here.