Get the game on WiiWare this upcoming May.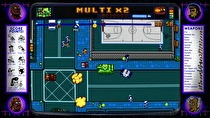 Retro City Rampage is coming to WiiWare this May, according to a press release.
Retro City Rampage does not seem to be lacking in content as it features over 50 story missions that involve everything from driving, shooting, platforming, and even rhythm elements. These story missions are accompanied by over 30 arcade challenges. The game also includes more than 25 different weapons to use, as well as over 40 different vehicles to steal.
Retro City Rampage is also releasing on the XBLA, PlayStation 3, PlayStation Vita, and Steam.