New tables are waiting for DLC support from Nintendo.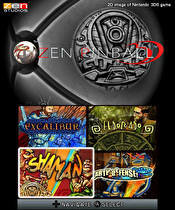 Zen Pinball 3D will receive new tables in approximately two to three months, according to a Zen Studios representative posting on the company's forums. The availability of DLC is dependent on Nintendo support through the eShop.
In response to a customer question regarding the upcoming tables, the representative stated, "We'll be adding more tables when Nintendo implements the functionality to do so...should be in 2-3 months, last I heard."
Zen Studios has not announced which tables will be made available, though they have a wide variety to choose from. Aside from the four tables included in the 3D version, players of other versions of Zen Pinball can already access a number of other tables including Tesla, V12, Sorcerer's Lair, Paranormal, Mars, Epic Quest, Rollercoaster, and Inferno. They also have created tables representing games (Street Fighter II, Ninja Gaiden Sigma 2, and Ms. Splosion Man), Marvel comics (Wolverine, Captain America, Thor, Spider-Man, Blade, Iron Man, Fantastic Four, Hulk, Ghost Rider, Moon Knight, and X-Men), and others (Speed Machine, Extreme, Agents, Buccaneer, Nightmare Mansion, and Rocky and Bullwinkle).
Zen Pinball 3D launched in North America on January 12 and is available on the eShop for $6.99.