The hope for a European release is still alive.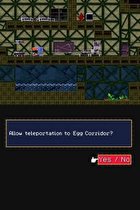 Cave Story for DSiWare was sent off by Nicalis, only to be rejected for Europe once again. This news comes from the Twitter feed of Nicalis.
The independent developer says that they sent the build off to Nintendo in December, but they had a minor issue with the digital manual. Nicalis promised to try again this month.
Cave Story for DSiWare was released in North America more than a year ago and last November it saw a Japanese release.