The quirky sound based mini-game is highlighted on Nintendo Direct.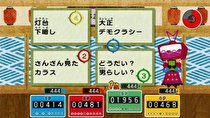 Yoshio Sakamoto, creator of Metroid and WarioWare, demoed the latest build of Kiki Trick alongside Satoru Iwata on Nintendo Direct.
Kiki Trick is a mini-game based collection with a focus on listening to sounds. The first game using this concept had players listening to a garbled phrase and choosing the correct text based on what they understood.
The second mini-game shown off had players picking one of four video clips based on the audio they heard. The third and final game was a small mini-game where players picked sound effects while a man was eating a bowl of ramen.
Kiki Trick will be released in Japan on January 19 for the Wii.